Collaboration
One of my favorite things about teaching is building community in my classroom through collaborative assignments.  This is an assignment my Drawing-1 Class just finished at The Community College of Aurora.
Assignment:  Each student received two squares to complete a whole, huge image of 30 squares.  Students quickly realized that they needed to start talking and working together!  The energy in the classroom the past few weeks was awesome!  Everyone talking and working together.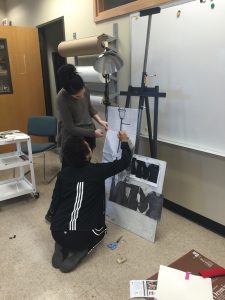 They worked hard!!!! And even harder as the collaboration move forward. 

The piece on display – students stepped back and still wanted to make improvements.
 Finished product!
Happy students!  An amazing class!
My Best to your collaborations.