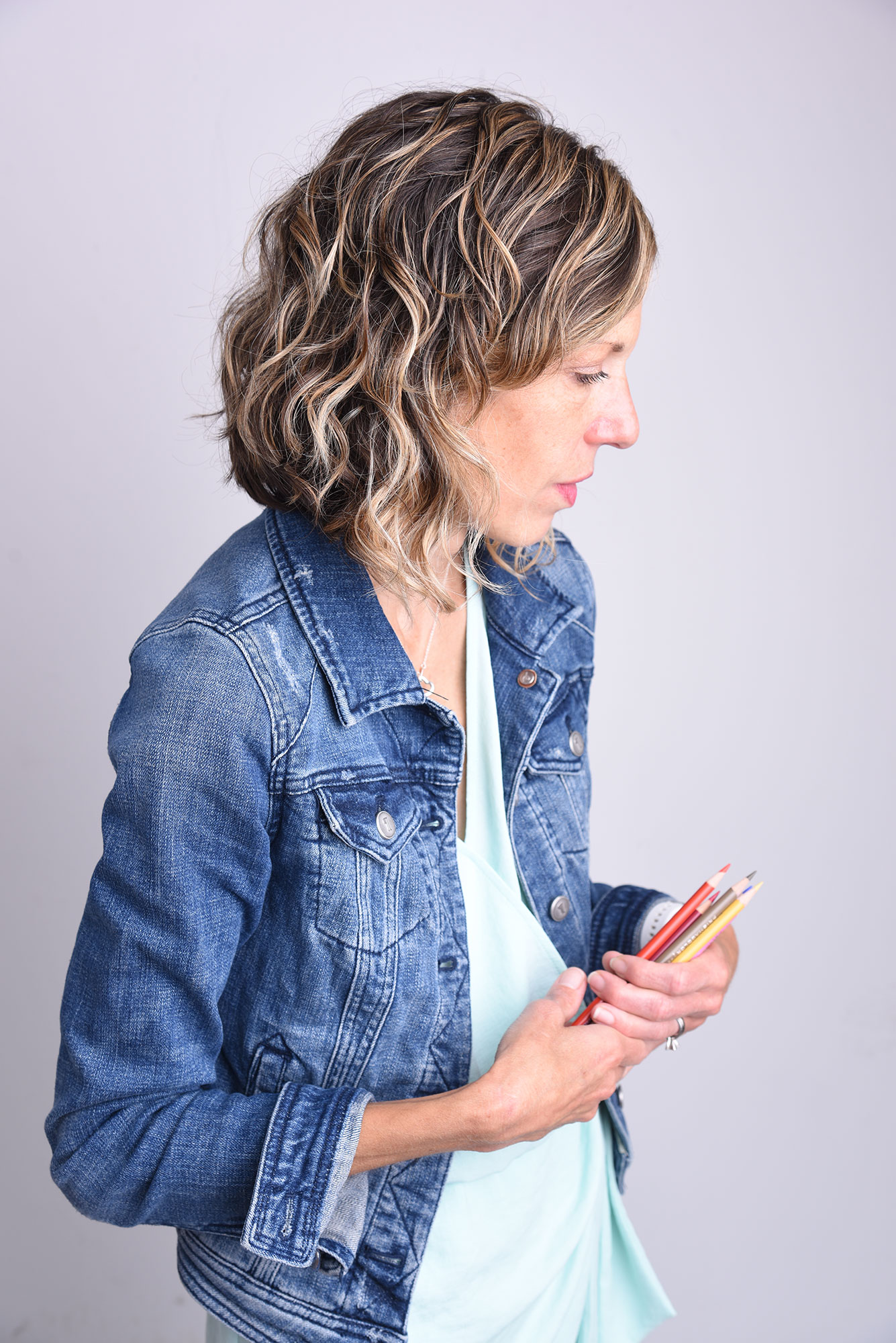 About Kate
Kate's career and connection with art started in Grand Rapids Michigan at Kendall College of Art and Design were she gained her bachelors in fine arts. After graduating from Kendall Kate earned her masters of fine arts from Virginia Commonwealth University. With the conclusion of her education Kate continued her practices as a working artist but also became an educator.
Kate has taught at several universities and colleges across the country including the Corcoran College of Art and Design in
Washington, D.C. Kate now lives in Colorado and is lead faculty of the art department at The Community College of Aurora.
Her studio work has been shown around the world in places including New York, Chicago, London, Switzerland, Miami, Virginia and Washington, D.C. Kate is currently represented by Sandra Phillips Gallery in Denver, Colorado.

Curriculum Vitae
TEACHING
Present Faculty Mentor RMCAD Rocky Mountain College of Art and Design
2015-2020 Lead Faculty of Art, Community College of Aurora
2018-2019 Faculty of the year, Community College of Aurora
2018 Linda and Roger Bowman Award for Teaching Excellence
2017 Awarded "40 under 40", American Association for Women in Community Colleges
EDUCATION
2002-2004 Master of Fine Arts
Virginia Commonwealth University, Richmond, VA
1998-2002 Bachelor of Fine Arts
Kendall College of Art and Design, Grand Rapids, MI
2000 Study Abroad
SACI College of Art, Florence, Italy
EXHIBITIONS
2021
Spring Renewal, two-person show, Sandra Phillips Gallery, Denver, CO

2019
(In Search of) Why We Draw, Sandra Phillips Gallery Denver, CO
2018
Foodies, Sandra Phillips Gallery Denver CO
Pink Progression, Boulder Public Library
Pink Progression, Denver Public Library
Pink Progression, CVA, Denver CO
Counter Point, Sandra Phillips Gallery, Denver CO
FOPAS, Denver Art Museum – silent auction, Denver CO

2016-2017
CSArt chosen artist, Denver Botanic Gardens
and Boulder Museum of Contemporary Art
Denver/Boulder, CO
Food and Drink, Orange County Creatives Gallery
Laguna Beach, CA
Les Petites Choses, Processus Gallery, Denver, CO
CCCS Faculty Show, Denver, CO
Food Show, Dairy Center for the Arts, Boulder, CO
2013-2015
Solo Show
CCA Dana M. Gallery Aurora, CO
ADA Gallery, Richmond, VA
2010-14
Linden row, Richmond, VA
Mulherin Pollard Projects, New York, NY
Scope New York, New York, NY
Scope Miami, Miami, FL
ArtPrize, Grand Rapids, MI
NEXT Art Fair, the show for emerging young artists,
Chicago, IL
Collective Noun, Denver, CO
2007-2009
Salon Selectives II, ADA Gallery, Richmond, VA
The Colonial show, 2nd Street Gallery, Charlottesville, VA
Scope New York, New York, NY
Art D.C, Washington, D.C.
Story Time, Kathleen Ewing Gallery, Washington, D.C.
Scope Switzerland, Basel, Switzerland
Scope London, London, England
Scope Miami, Miami, FL
Thinking Voodoo, Kathleen Ewing Gallery, Washington, D.C.
Scope Hampton, East Hampton Studios, Wainscot, NY
Scope Miami Again, ADA Gallery, Richmond, VA
2005-2004
Double Chin, Stux Gallery, New York, NY
Artfestation, Grand Rapids, MI
Twenty-Twenty Vision, District Fine Arts, Washington, D.C.
The Apollonian Style, Bruno Marina Gallery, Brooklyn, NY
MFA Thesis, Anderson Gallery
Virginia Commonwealth University, Richmond, VA
Daytrippers, Transformer Gallery, Washington, D.C.
Casserole, Artspace Gallery, Richmond, VA
RESIDENCY
2006 Professional Artist in Residence
Ox-Bow School of Art and Artist Residency, Chicago, IL
Affiliated with the School of the Art Institute of Chicago
PUBLICATIONS
Meet Trailblazer Kate Woodliff O'Donnell, VoyageDenver, September 2019
Moving Wisdom, December 2012
Vernissage TV, October 16th, 2006
http://vernissage.tv/blog/2006/10/16/

Art Net
http://www.artnet.com/artist/424798196/kate-woodliff.html
Art Papers, November, 2003
Seven Messengers, Richmond VA
Inaugural Show 1708 Gallery Artist Members
www.1708gallery.org/past_shows/august03b.html
Delicate Monster, Volume 4, April, 2003 Volume 3, December Volume 2, August Volume
www.delicatemonster.com/vol4/Visuals1.htm
COLLECTIONS
Corcoran Museum of Art, Washington, D.C.
Linklaters Law Firm, London, England
Vera Wang Collections, New York, NY
Norwegian Cruise Line, New York, NY