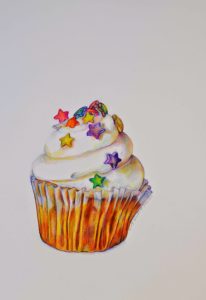 I finished this cupcake drawing today and had so much fun! I love the candy stars sprinkles.
5% of all of the sales of my drawings will go to research or funding to help women with eating disorders. This cause is 100% of my motivation for this new serious of drawings….Plus it's really fun to let go and draw food…! ENJOY you all! let me know what you think…..
(Note: all collaborations I join in on are a donation to the collaborator, no funds at this point will be donated).