A piece with a purpose, quiet in the world:
This past week I was excited to start blogging again.  My first blog back was going to be about working while traveling, keeping your studio going on the road.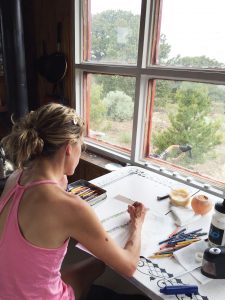 The piece I decided to work on and blog about while traveling was a candy necklace, number 32 out of the 60 for the CSArt project.  This piece in my mind became about much more this past Sunday June 12th.          

Me working while traveling in a very small cabin in the San Luis Vally, the most quiet place in the world!
My website is being updated now!  Prints of my works will also be available soon on my site.